At the end of the day, WordPress is most often used as a content publishing platform. People use the software as a jumping-off point for tossing their opinions onto the world. And the best part is, you don't even have to be skilled in search engine optimization to attract an audience, because WordPress features plug-ins for SEO copywriting.
All you have to do is find a topic, find time to write, and then get to informing others about whatever it is that you want to write about. Is it clothes? Shoes? Bavarian crème donuts, maybe? Doesn't matter – you write and the plug-ins make it possible for your writing to be seen.
The Top 2 WordPress Plug-ins for SEO Copywriting
If you're wondering why I'm only featuring two plug-ins, it's because I cherish quality over quantity. I'd rather people understand two of the most functional, easy-to-use plug-ins currently in the industry than be bogged down by a long list with a smattering of information.
So let's hit it:
InboundWriter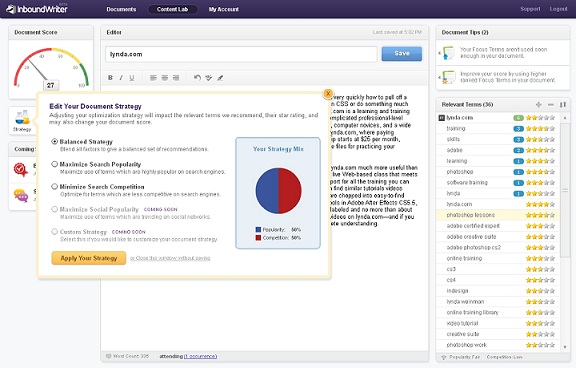 When it comes to writing, forming content around keywords can feel restrictive and clunky. Sentences get sacrificed for these keywords with the hope that it generates more traffic. But if you stuff your sentences with so many keywords that it becomes awkward to read, what good is the extra traffic?
This is where InboundWriter can help: the plug-in "enables writers, bloggers, and marketers to easily create and improve online content for increased reach, engagement and conversions," says the plug-in's official WordPress page.
As you write, you receive "real-time SEO intelligence streamed directly into [your] WordPress editor," which gives you a clue as to how effective the copy is at following SEO standards. Also, the plug-in features recommendations for trending or related keywords, along with the size of the audience searching for any given keyword and how well that keyword ranks in the search engines.
Plus, the plug-in has an awesome meter that reminds me of a car's speedometer. It makes you feel like a race car driver when the score tops out at 90 or 100. Vvvrrrrooommm – speeding up the search rankings!
Scribe

While InboundWriter focuses more on content creation, Scribe leans to the marketing side of SEO copywriting. Scribe allows a user to "conduct in-depth research…to quickly identify content marketing opportunities for search and social media traffic and leads."
Scribe does this through its various features, such as its content and traffic analysis abilities, which provide a "fast yet intuitive way to check the alignment of your writing to the content on your site." This ensures your overall focus remains sharp and concise, perfect for attracting and holding audience members.
Lastly, Scribe features what it calls the "Site Connector" tool. This nifty addition provides a simplistic way for you to find other writers, bloggers, and social media users sharing the same topic as your site, making it easier to create guest blogging and shared link connections.
If you are having any sort of trouble with connecting with new audience members or extending your reach, Scribe is definitely the plug-in you want to use.