Pay-Per-Click Advertising
When you need immediate results or want to target time-sensitive keywords, turn to pay-per-click (PPC) advertising. This alternative form of search engine advertising drives customers to your website without having to struggle up the search rankings.
At SEOWebsiteDesign.com, we create PPC campaigns by researching relevant keywords, competing for the most effective pay-per-click price, and monitoring the campaign's results. We're obsessed with helping you achieve customers, not just traffic.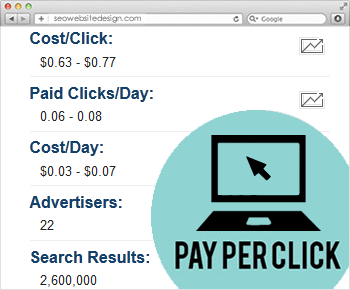 Pay-Per-Click Advertising Services:
Targeted Research
Our detailed traffic analysis finds the keywords that drive high quality traffic.
Content Network
Advertise on websites with themes similar to your targeted PPC keywords.
Search Network
Dominate first page search results without competing in the SEO arena.
Custom Plans
SEO specialists tailor PPC campaigns to fit your website's specific goals.
Ad Copy
Professional writers create compelling, informative SEO copywriting that attracts relevant traffic.
Monitored Expenditures
Campaign management can optimize bid budgets so you don't break the bank.
We customize PPC campaigns to fit your goals and objectives. Do you want to drive traffic to a seasonal ecommerce store, without running monthly SEO campaigns? We'll make it happen. Are you targeting highly competitive keywords while balancing a tight budget? Sounds like our kind of challenge. Whether you want a campaign using dozens of keywords or only a handful, our PPC expertise leverages the amount of quality traffic coming to your website.