WordPress Web Development
When you want usability and a small learning curve, turn to WordPress. This open source software development project continues to be a popular choice among website owners, because it's easy to use, highly customizable, and offers a wide range of options for leveraging your traffic results. From framework to functionality, our WordPress development teams utilize this unique platform to enhance every element of your website.
SEOWebsiteDesign.com's programmers are always available for any WordPress web development projects needed to enhance your website.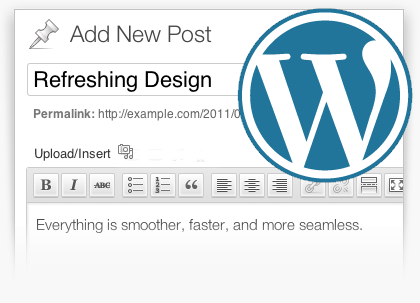 WordPress Web Development Services:
Personalized Themes
Use a custom theme to give audiences a great first impression.
Unparalleled Flexibility
From creating pages to editing content, WordPress can do it all.
Custom Plugins
Improve your online presence by enlisting help from custom plugins.
Integration Service
We can integrate WordPress into your website without any technical problems.
Powerful Communication
WordPress remains the top blogging platform, perfect for communicating with audiences.
What began as an open source blogging software has quickly become a full-spectrum web development package, and web engineers continue to optimize WordPress for all emerging technologies. With its PHP scripting language and MySQL databases, WordPress has been called the backbone of Web 2.0 development, and our professional programmers and developers are happy to help you optimize any website using this unique software. It has the power to customize and manage entire websites.