Email Marketing
There's a fine line between a great email marketing campaign and a really, really annoying one. Too often email marketers blast out messages to subscribers, only to see minimal results and a plummet in subscriptions. Similar to social media marketing, a properly crafted and utilized email marketing campaign accomplishes three goals: informs subscribers, makes a positive impression, and increases your ROI. With the marketing team at SEOWebsiteDesign.com, you can achieve these goals.
SEOWebsiteDesign.com's marketing team is always available for any email marketing project needed to enhance your website's traffic.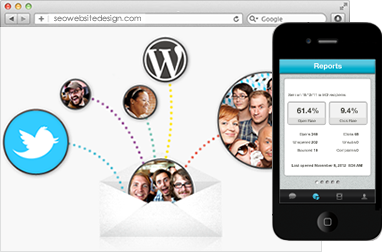 Email Marketing Services:
Audience Research
Each email is catered to an audience's attitudes, culture, and expectations.
Goal Analysis
An email focused on a specific goal generates higher response rates.
Content Creation
Writers stand ready to produce copywriting that holds a reader's attention.
Effective Imagery
We craft visually-engaging newsletter branding to support and enhance a sales pitch.
Relevant Targeting
Aim for the individuals most susceptible to your email marketing messages.
Results Management
Build a full-spectrum data history to optimize all future email campaigns.
Effective email campaigns act as an open dialogue between you and subscribers. It's an engaging conversation that keeps the receiver hooked, because it provides value to the receiver's life. Understanding how to achieve that value requires an understanding of what the audience desires – what they would possibly want out of an open conversation with you. Rather than guess, which often results in a loss of subscriber base and low ROI results, the email marketing professionals at SEOWebsiteDesign.com have the know-how to turn your campaign from mundane to amazing.