One of the largest Google updates to come out of 2012 was the addition of rich snippets into search engine results. For those unaware of what a snippet is, Google explains it's "the few lines of text that appear under every search result," which "are designed to give users a sense for what's on the page and why it's relevant to their query."
In the past, snippets included only text. Walls and walls of text resulted from each and every search query. Text on the sidebars, text in the PPC ads above the search results, text in the search results – text everywhere!
And quite frankly, all that text tires out the eyes, and often doesn't say enough about what users can expect upon entering the site.
Rich snippets changed all of that.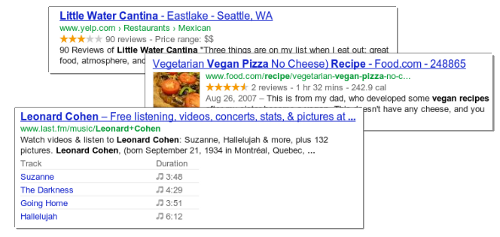 Why You Need Rich Snippets
Here's what Google says about rich snippets:
If Google understands the content on your pages, we can create rich snippets – detailed information intended to help users with specific queries. For example, the snippet for a restaurant might show the average review and price range; the snippet for a recipe page might show the total preparation time, a photo, and the recipe's review rating; and the snippet for a music album could list songs along with a link to play each song. These rich snippets help users recognize when your site is relevant to their search, and may result in more clicks to your pages.
Rather than use mere text to explain what users can expect within your site, rich snippets bring the site's content directly into the search engine results. And sites already using rich snippets report a 20-30% increase in their click-through rate – all because their search engine results are personalized to meet their site's content.
The Many Types of Rich Snippets
Google currently offers eight types of rich snippets, each targeting a different industry:
Reviews – A review snippet allows Google to display customer reviews, either a single product or the most recent review information. Google says, "The goal of a review rich snippet is to provide users with review information about a specific product or service, such as the star rating (1 to 5 stars) and the name of reviewer(s)." A positive review can encourage users to click into your site.

People – For sites like LinkedIn, a people rich snippet allows Google to better recognize and display your information in search results. Also, each person rich snippet can be customized to show only certain information about the individual, such as their job title, name, nickname, friends, address, or photo. Use as much information as you feel comfortable with displaying in a search result.

Products – According to Google, a products rich snippet "helps you to:
Attract potential buyers while they are searching for items to buy on Google.
Submit your product listings for free.
Control your product information. You can maintain the accuracy and freshness of your product information, so your customers find the relevant, current items they're looking for."
The snippet does this by giving Google "detailed product information [they] can use to display rich snippets (for example, price, availability, and review ratings) right on [their] search results page." If you sell products, you need to use products rich snippets.
Businesses and organizations – The businesses and organizations rich snippet works in conjunction with the reviews and events rich snippets, by providing Google with more information. Each organization's rich snippet "can have a number of different properties, such as its name, address, URL, and phone number."
Recipes – Although Recipe View is only available in the US and Japan, Google is expecting to "bring it everywhere." The goal of a recipe rich snippet is "to provide users with additional information about a specific cooking recipe, such as the reviewer(s) star rating (1 to 5 stars), cook/prep time, and calorie information."

Events – An events rich snippet can provide details about a single event:

…or a whole bunch of events:

Both the event itself and the information about that event must be clearly defined for Google to display it in their search results. Also, Google doesn't allow any "promotional elements such as the price of the event, a call to purchase, or an indication of a sale or temporary discount." An events rich snippet is solely for providing basic information about the event.
Music – A music rich snippet allows Google to place music samples or songs in your search result snippet. This allows users to see which songs are available in the site, and even click on the song to start listening right away.

Video Content – Google currently "recognizes both the Facebook Share and Yahoo! SearchMonkey RDFa markups. Using either (or both) of these formats to mark up video directly in your HTML helps Google better understand and present your video content. Make sure the markup appears in the HTML without the execution of JavaScript or Flash."
Schema.org
To make rich text snippets easy to integrate for developers, Microsoft, Google, and Yahoo! collaborated to create schema.org. The site features structured data markup schema support by major search engines, which standardizes the web development process across the board. Rather than force web designers and developers to markup sites for each search engine, this streamlines the web creation process.
"If you've marked up your content for rich snippets using microformats, microdata, or RDFa, then you're already family with the process," writes Google. "schema.org works the same way, using the microdata markup format and a vocabulary that is shared by all the search engines and that supports a wide variety of item types and properties."
How to Incorporate Rich Text Snippets
Although Google provides all the necessary information to integrate rich snippets into a site, the actual act of integrating them can elude some individuals. But this shouldn't keep you from enjoying the benefits of rich snippets – especially the increase in traffic.
For this reason, we're happy to help anyone upgrade their website with rich snippets. All you have to do is contact us.