Overview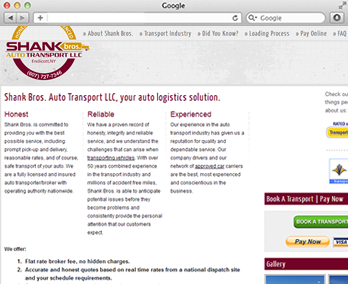 We worked closely with the Shank brothers, John and Tom, to reinvigorate their online identity by building a professional auto transportation website and brand. The website's inviting design complements its strategically designed call-to-action advertisements, all of which has exponentially increased the website's potential.
Design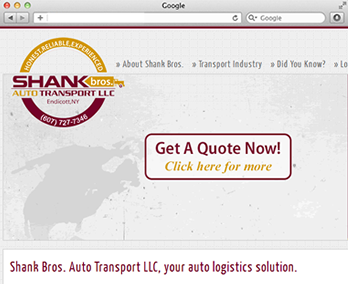 Seeing as the company is based around one specific service, we created a simple web design that kept the user engaged and focused. This magnified the user's satisfaction, as they knew exactly what they were getting from Shank. Information and design combine to create an elegant addition to the company's branding.
Development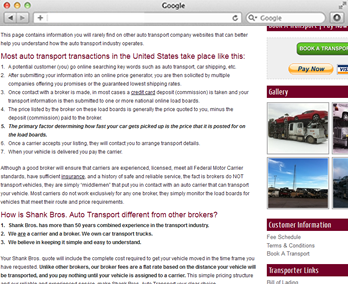 Site construction was based around WordPress, with the focal point being the site's quote form. Using WordPress ensures the site remains easily updateable with new content or edits. The lack of extraneous pages keep users directed toward the goal of conversion. A secure billing service was integrated into the site's custom WordPress framework.
SEO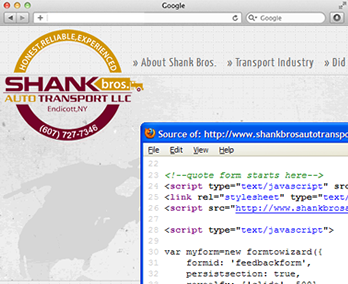 Our professional search engine specialists crafted an SEO initiative specifically for Shank's auto transportation industry. The initiative injected proper keywords into the site's content, allowing for future opportunities of search engine optimization, if the Shank Bros. felt it necessary.
Programming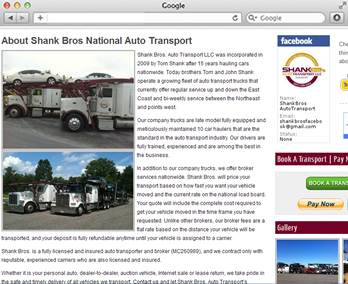 Custom programming began with WordPress integration and plug-in additions. We also had to ensure the online billing system was secure and capable of handling large transactions. We kept the coding as simple as possible, as we wanted the site to run as fast as possible.
What We Did:
Search Engine Optimization – Wrote content using researched keywords to target specific audiences, while optimizing back-end systems for long-term search ranking results.
Copywriting – We took the time to understand the voice needed to convey the Shank Bros. company message, and then created content that captured an audience's attention.
Development – Seamlessly constructed the company's website around a call-to-action quote form, focusing on integration, not intrusiveness.
Design – Brought the Shank Bros. online with an authoritative design intended to empower their brand.