Overview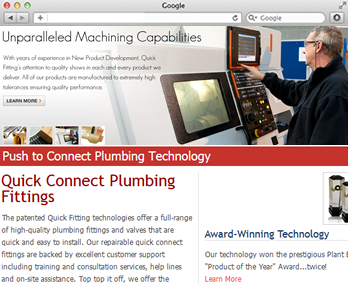 After meeting with Quick Fitting to discuss their vision, we developed a customized plumping supplies and manufacturer website that has streamlined their online business and increased overall sales for their repairable quick-connection plumbing fittings. Also, we continue to manage the website's updates.
Design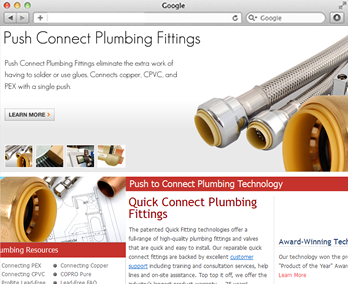 We created a custom corporate design to use as a WordPress theme, which included jQuery banner designs for the homepage. A professional in-house photo and video shoot captured images showcasing the company's product lines. Lastly, we created designs for brochures, business cards, newsletters, banners, and other such marketing materials.
Development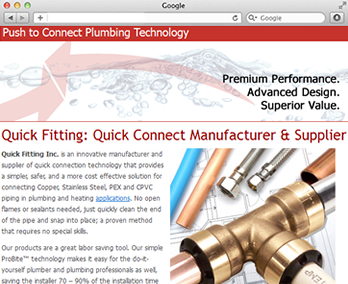 Construction started with creation of a custom theme for the WordPress platform. The theme incorporates jQuery scripting for a banner slideshow on the homepage. For blog functionality, we also integrated a "What's New" section into the WordPress theme.
SEO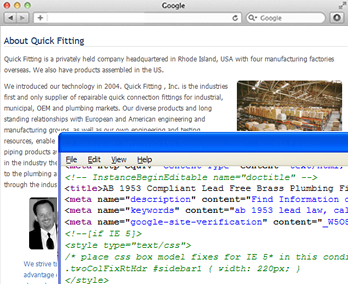 Targeted keywords related to "push connect fittings," and site-wide optimization started with content creation. Now, ongoing SEO analysis and maintenance tracks keyword movement in the search engine result pages (SERPs).
Programming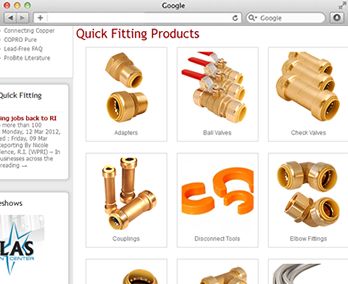 We built a backend system for product order tracking. The system tracks all orders placed, and it has different user-levels for administrators, sales managers, and warehouse managers. In addition, the system tracks the amount of orders placed, prioritizing the orders by different variables, including when the order was placed, the customer's desired shipping method, and the order's priority level. Also, the system tracks back-orders, and records shipping details and notes.
What We Did:
Design – Built a design that visually informs as much as advertises, while maintaining the Quick Fitting branding integrity.
Development – Created a website that concisely and clearly displays the Quick Fitting company message and product catalog.
Search Engine Optimization – Professional writers crafted SEO copywriting that attracts both human and search engine attention, empowering the site's rankings and readability.
Hosting – Customized server solutions ensure the website handles even the heaviest of traffic.