Overview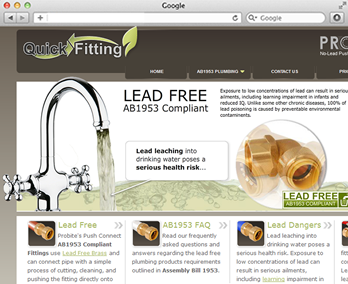 Quick Fitting needed an easy way to advertise and promote their new lead free plumbing and fitting website, which features their AB1953 compliant fittings. We took the time to understand their needs and objectives and delivered a manageable and easily modified website. Content was crafted around seamless keyword integration, so as to promote both readability and search rankings.
Design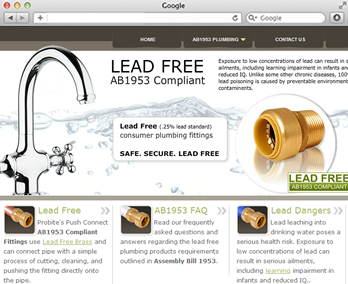 Quick Fitting wanted a visual guide to their product, one that draws attention as much as it educates. A professional in-house photo and video shoot captured product images needed to complete this kind of a design. We also created the company's designs for brochures, newsletters, banners, business cards, and other marketing materials.
Development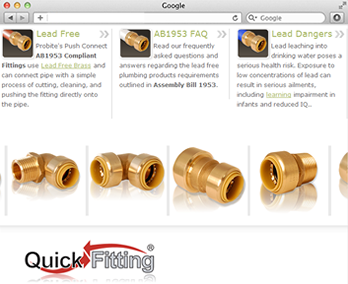 Construction required a custom framework built around the company's objectives. A jQuery slider on the homepage features various pipe fittings, while a Flash banner showcases how the products work. The "Pricing" section allows customers to download a PDF featuring the company's product costs.
SEO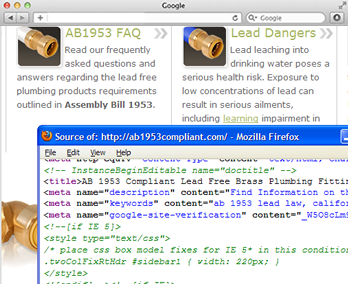 Focused an SEO initiative on keywords relating to "push connect fittings." All created content met specific keyword density requirements, with internal linking supporting the SEO possibilities. Ongoing traffic analysis and maintenance monitors keywords for movement in the search engine rankings.
Programming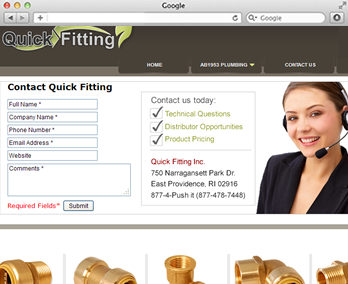 We created a backend system designed for tracking orders. The system has different user-levels for various users, such as administrators, sales associates, and warehouse managers. The system also tracks the amount of customer orders, which the system prioritizes by variables such as when the order was placed, the customer's desired shipping method, and the order's priority level.
What We Did:
Search Engine Optimization – Created an SEO campaign that targeted the specific audience that may be looking for the product similar to the one now offered by Quick Fitting.
Copywriting – Analyzed the company's established voice and crafted new content to capture that style, while establishing the company's authority within the plumbing industry.
Development – Compiled the company's extensive product catalog into easy-to-understand page layouts.
Design – As an extension of the company's brand, the website's image complements and extends their branding, while promoting flow of visual information.
Hosting – Server solutions keep the website working even under heavy, constant traffic.