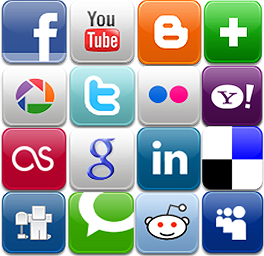 With the new year only weeks away, it's time to create a social media marketing campaign for 2013. To get you started, we compiled a list of core elements that must be part of every online campaign. Whether you want to revolutionize an old social media push, or create one for the new year, here's our advice to get you started on the right foot for 2013.
Review 2012 Social Success
Even before thinking about 2013 campaigns, you must review 2012's collective social media data. All of that information helps you to determine which audiences reacted to your engagement and which ignored social media attempts. Make sure to assess every social platform – e.g., LinkedIn, Facebook, Twitter, Instragram, Google+, and so forth – because you may find one attracts more individuals, while another converts more customers, in which case it'd be a matter of using the best of both campaigns to enhance audience attraction/conversion rates.
Talk to Your Team
Nothing kills a social media campaign quite like poor communication. For example, imagine a writer creating an elaborate post that's meant to be launched on a specific day, but the writer fails to inform whoever controls the social media accounts, so it's either sent out too soon or too late. This returns a less-than-expected result. Too many of these kind of results and the whole campaign suffers. Instead, bring your team together – sales, marketing, social, creative, branding – and make sure everyone understands their roles and the lines of communication.
Gather Corporate Assets
Analyze all sales and market assets currently within your company. Such assets include presentations, giveaway opportunities, published reports, mobile applications, online videos, instant messaging, and so forth. Seeing all of this together gives you an idea as to what kind of campaigns you can run. Do you have a lot of copy-based assets? Start there. Plenty of giveaway items? Focus a campaign on that. Basically, work with what you have.
Examine SEO Opportunities
At the end of the day, a social media campaign should be benefiting your website's established search engine optimization rankings. For this reason, you want to research SEO keywords that have previously driven business to your organization, using them as a stepping stone for campaign creation. Also, always track your social interactions in Google Webmaster Tools and Analytic. Information is the strongest tool for modifying campaign results.
Set Realistic Goals for 2013
Don't let the excitement of a new year get the best of you. All social media campaigns goals must be grounded in attainable, realistic goals. You want to look back on 2013 and say, "Yes, I accomplished what I set out to achieve." This means your social media campaigns must resonate with your customers, engaging them on a meaningful level that fulfills their needs, which in turn fulfills your needs. Remember, these are actual people, not just numbers, and you have to provide a worthwhile experience/product to attract their attention.