Overview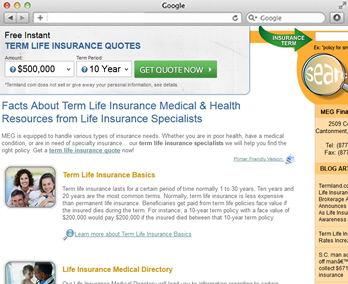 We helped MEG Financial extend their services by building a term life insurance quotes website. The site empowers their established brand by providing authoritative imagery and information on the topic of term life insurance, which reaffirms MEG Financial's position within the insurance industry.
Design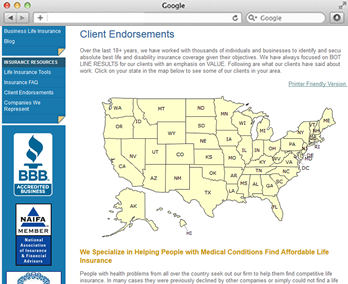 MEG Financial wanted a visual design that kept the focus on content. They wanted a user to feel guided along the complex topic of term life insurance, so we toned down the visuals and emphasized content areas. We also designed the company's brochures, newsletters, business cards, banners, and so forth. We have become the company's go-to design firm.
Development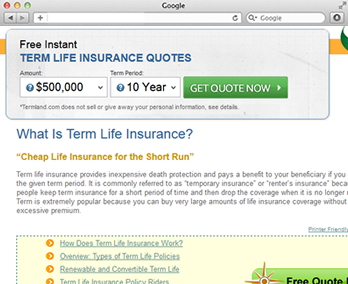 MEG Financial's term life insurance website was built from scratch, using no outside frameworks as a foundation. MEG wanted complete control over the specifics of their site and would not accept working within something like WordPress. We happily agreed, building a site that met their specific demands, which includes having a quote form and a search box.
SEO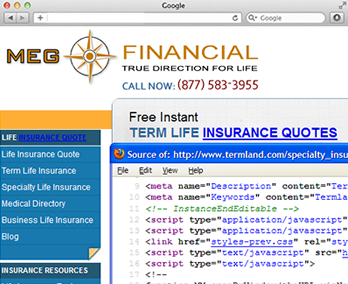 We created content that informs as much as attracts users through search engines. Extensive research went into determining the exact keywords to use for the SEO campaign, and now ongoing traffic analysis refines the campaign to continue producing worthwhile results.
Programming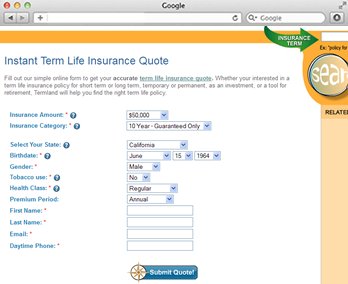 All functions within the site required customized programming to both make them work and properly integrate them into the site. We also created a backend system in which MEG Financial can track customers' orders and their quote requests. This system also has an email notification system that informs an MEG team member of which a customer has converted.
What We Did:
Search Engine Optimization – Utilized the website to target new keywords, both intended to attract traffic to this specific site and to the company's sister sites.
Copywriting – Used the company's established voice to create content that informed users about the new insurance service, in addition to advertising the company's previous services.
Development – Programmed the site using the latest web standards and web technologies to produce a user experience focused on accessibility and informational ease.
Design – Visualized the concepts put forward by MEG Financial, creating a unique website that works within the company's visual branding.
Hosting – Server solutions provide security and stability for even the heaviest of traffic.