Overview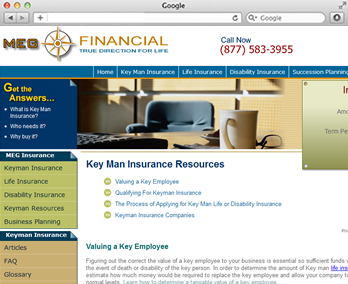 We worked with the guys behind MEG Financial to create a new key person insurance quotes website dedicated to their key person insurance services. The website maintains and strengthens their branding, in addition to concisely explaining the complicated topic of key person insurance. All content is optimized for search engines.
Design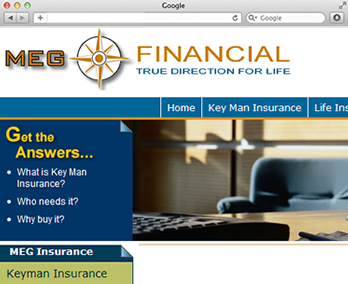 MEG Financial made it clear they wanted a user's focus to remain on the content, but they wanted visual elements that helped guide the reader along. We took to the artistic chalkboard and came back with their current design – a professional, sleek image that promotes access to information. Also, we designed the company's business cards, brochures, banners, newsletters, and other such marketing items.
Development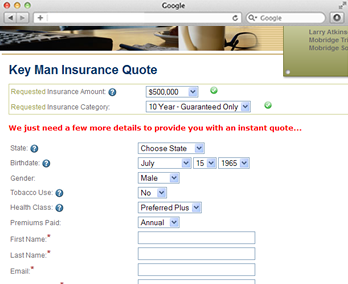 We originally built the site using no framework and all custom coding, but later integrated the site into WordPress, giving MEG an easier time editing and updating their site. We also created and integrated a quote form for converting customers, with an email notification system that alerts MEG for each conversion.
SEO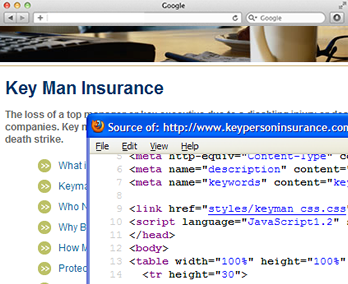 All content on the site has been written or edited by in-house writers, who injected the proper keywords into each article or blog post. The exact keywords used on the site have been extensively researched prior to being placed in content. Ongoing SEO maintenance now helps to keep the site showing up in the SERPs.
What We Did:
Search Engine Optimization – Researched strategic keywords to create and manage an aggressive SEO campaign.
Copywriting – Refined and updated existing content, infusing it with SEO-approved practices to attract search engine attention.
Development – Constructed an extensive website with pages that clearly display appropriate information, later integrating pages into WordPress for easier web development.
Design – Extended the MEG Financial brand with an easy-to-use and highly accessible website designed for multiple audiences.