Overview

Media Northeast, a results-based video production company, came to SEOWebsiteDesign.com for assistance with their online image. They had all the artistic assets, but they needed someone to turn those assets into an interactive online web presence. We met, discussed their company values, and then built a web site that both solidified their brand and attracted new audiences.
Design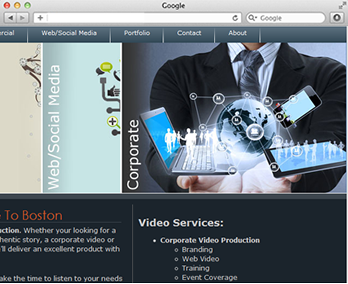 Seeing as Media Northeast's services are based around visuals, we created a homepage web design that integrated their high-quality photos without intruding on content. This attracts the reader's attention, encouraging them to click into one of the internal pages, which are focused more on content than images. This kind of design strategy eases a user into the site, rather than bombarding them with too much information.
Development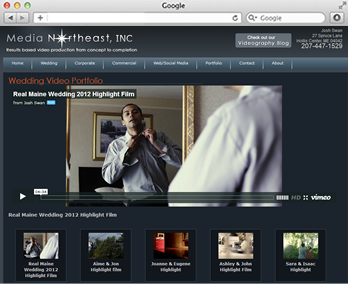 The site was built using custom coding to create a framework for displaying the company's photos and content. The framework includes HTML5, CS3, and cross-browser compatibility, which includes jQuery scripts for AJAX and Flash integration. We also included video and photo sliders throughout the site.
SEO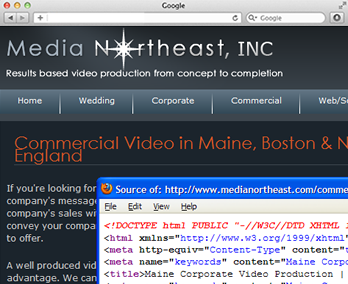 Including both local and regional optimization, we created an extensive SEO initiative that focused on attracting quality customers to Media Northeast's website. The initiative focused primarily on optimizing the content within the site, with some internal linking throughout. We also laid the groundwork for a future SEO campaign, if the company so chooses.
Programming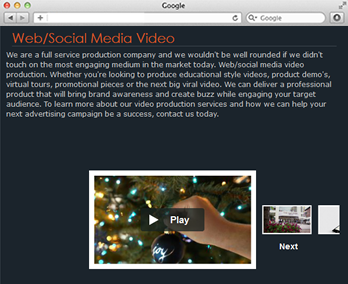 As with the web development phase, all programming within the site was created using 100% custom code, meaning no existing software base. We used PHP and MySQL database to ensure every part of the site ran as smoothly and quickly as possible, keeping users transitioning from one page to another.
What We Did:
Design – Created a website design combining both the company's outstanding in-house photography and video with their optimizing SEO copywriting.
Development – Used 100% custom coding to create a website framework perfect for the company's intended purposes.
Search Engine Optimization – Utilized an SEO initiative to optimize the site's content and internal linking for specific industry keywords.