Overview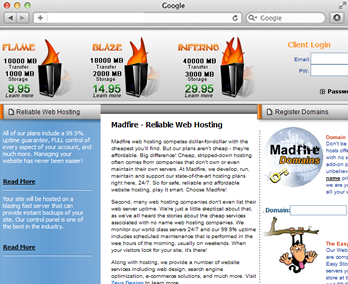 Sometime after we opened SEOWebsiteDesign.com, we created our partner web hosting company, Madfire. In conjunction with SEOWebsiteDesign.com's services, Madfire completes our total web services package, offering everything from hosting to software development. Plus, by having your site on our hosting servers, it expedites the process of updating, changing, or maintaining your website. It's a win-win for everyone.
Design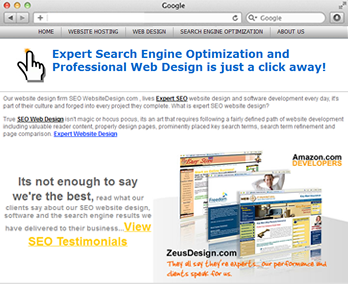 Web hosting can be a difficult topic to understand, which is why we focused Madfire's web design on information and minimalistic visual elements. We want clients to come on the site and not feel overwhelmed by excessive advertising. And the simplistic design promotes company transparency, as we're not trying to use visuals to hide the facts.
Development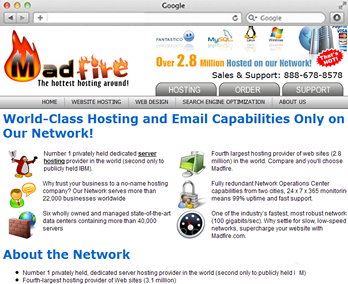 Every line of code within the site is 100% unique from our in-house programmers, and like the visual design, we focused on keeping the site's page count to a minimum. We believe the less people have to search for information, the more trust they place in that company. Also, the site supports a secure billing system that ensures a client's personal data remains solely in our system.
SEO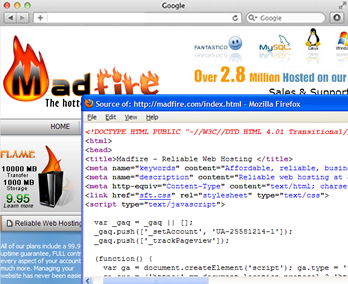 As a search engine optimization company, we took the time to create a basic SEO strategy for pushing Madfire up the SERPs for such terms as "web hosting." Every word of copy has been approved by either an editor or a search engine optimized, ensuring the keyword density and readability remain adequate for both users and search engines. Lastly, we created a comprehensive internal linking strategy that promotes both Madfire and SEOWebsiteDesign.com.
Programming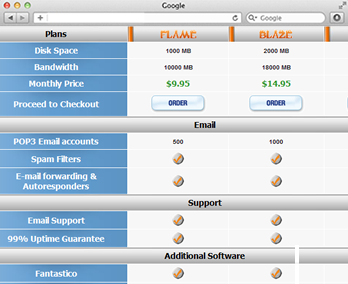 We used 100% custom coding using PHP and MySQL database to create a backend system that allows clients to log in, control their server information, and send support tickets to a Madfire representative. Much of the backend system is comprised of separate databases, one for each part of the client's server interface, though they all work together to properly inform the client of their server status.
What We Did:
Design – Made a visual web design that focused on informing the client, not using visual to distract them.
Development – Created each page with the intent of maximizing load times and user interactions.
Search Engine Optimization – Implemented an initial SEO strategy, targeting appropriate keywords for the site's industry.
Programming – Built a comprehensive backend interface allowing customers to control, manage, and monitor their server's status.
Hosting – We host Madfire with a Madfire server. So meta.