Overview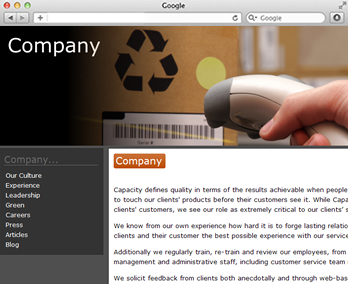 We worked closely with Capacity to reinvigorate their online identity by delivering a professional e-commerce order fulfillment and distribution website. The website revolutionized the way Capacity interacted with audiences, increasing their overall productivity and customer base. Lastly, we incorporated basic SEO techniques to assist with the company's search rankings.
Design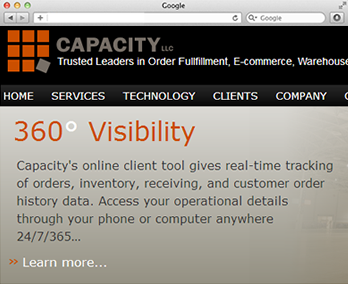 Capacity wanted their online presence to be an extension of their offline services, so we focused the site's design on simplicity and minimalism, putting the emphasis on information. The design keeps customers focused on the content, which the company catered toward encouraging customers contact them for services.
Development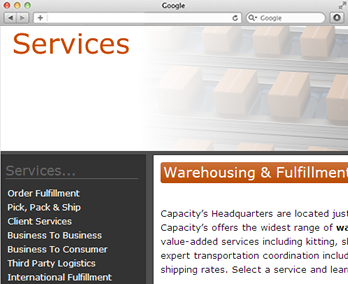 Completing the site require custom coding and a framework for both frontend and backend users. Clients are capable of logging into the site to see their personal information. HTML5 and CS3 were used in building the site, with a focus on cross-browser compatibility. Blog, newsletter, and contact form were among the last to be integrated.
SEO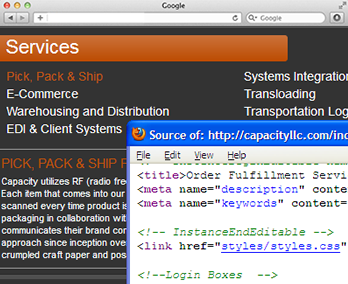 For this niche e-commerce fulfillment website, we targeted keywords specific to the industry, with an emphasis on quality traffic. Every piece of content was optimized for those keywords, and the backend code was brought up to SEO semantic standards. Lastly, we finished the SEO initiative with an internal linking strategy.
Programming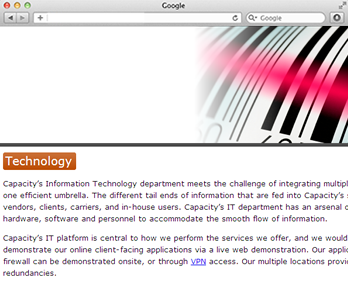 The site uses 100% custom programming (no existing software base) using PHP and MySQL database. It also features an automated register form with email notifications and confirmations, to validate email and user info. Backend programming went into creating a user interface for clients wanting to check their personal accounts.
What We Did:
Search Engine Optimization – White-hat SEO practices were utilized to offer the company future opportunities in attracting search engine attention.
Development – Built a website that invites customers into its pages, encouraging users to contact the company for further information.
Design – Strengthened the company's branding with a clean, corporate, professional online image.